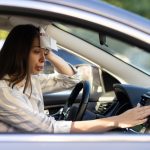 During scorching summer months, there's nothing more essential than a functioning air conditioning system in your car. However, like any other component in your vehicle, the A/C system also requires regular maintenance and servicing to ensure its optimal performance. In this blog post, we will cover all the necessary steps you need to take to keep your car's A/C system in tip-top shape so that it can keep you cool and comfortable all summer long.
1. Understand the Basics of Your Car's A/C System:
To effectively maintain your car's A/C system, it's vital to have a basic understanding of how it works. The system consists of various components, including the compressor, condenser, evaporator, expansion valve, and refrigerant. Familiarize yourself with these components to better comprehend the maintenance requirements for each.
2. Regularly Check and Clean the Air Filters:
One of the easiest and most important maintenance tasks for your car's A/C system is to regularly check and clean the air filters. Over time, these filters accumulate dust, dirt, and other pollutants, obstructing the airflow and reducing the effectiveness of the cooling system. Clean or replace the filters as per the manufacturer's guidelines to maintain optimum performance.
3. Check for Refrigerant Leaks:
Refrigerant leaks can significantly impact the performance of your car's A/C system. Inspect the system for any signs of leaks, such as oil stains or refrigerant odor. If you notice any leaks, it's crucial to seek professional assistance to repair and recharge the system with the correct amount of refrigerant.
4. Test the Cooling Performance:
Regularly test the cooling performance of your car's A/C system to detect any potential issues. If you notice a decrease in cooling capacity or a delay in reaching the desired temperature, it may indicate a problem with the compressor or evaporator. Seeking professional diagnostic assistance can help identify and fix any potential issues before they worsen.
5. Clean the Condenser and Evaporator Coils:
Over time, the condenser and evaporator coils of your car's A/C system can accumulate dirt and debris. This accumulation restricts airflow and reduces cooling efficiency. Use compressed air and a soft brush to clean these coils, ensuring optimal performance and preventing potential damage.
6. Replace the Cabin Air Filter:
The cabin air filter is responsible for filtering the air that enters the passenger compartment. Over time, it can become clogged with dust, pollen, and other contaminants. Regularly replacing the cabin air filter not only ensures clean air circulation but also improves the performance of your A/C system.
7. Maintain Proper Belt Tension:
The A/C compressor is powered by a belt that connects it to the engine. Over time, this belt can become loose or worn out, affecting the performance of the A/C system. Regularly checking and maintaining the proper belt tension is essential to avoid potential issues and ensure efficient cooling.
8. Clean the Air Vents and Ducts:
Dust, dirt, and debris can accumulate in the air vents and ducts of your car's A/C system. This buildup not only compromises the airflow but can also lead to unpleasant odors. Use a vacuum cleaner or compressed air to clean the vents and ducts to maintain clean and odor-free air circulation.
Conclusion:
Taking care of your car's A/C system is crucial to ensure that it keeps you cool and comfortable during the hot summer months. Regularly checking and cleaning the air filters, inspecting for refrigerant leaks, testing cooling performance, and maintaining proper belt tension are all essential tasks to include in your A/C system's maintenance routine. By following these steps, you can extend the life of your A/C system, prevent potential breakdowns, and enjoy a refreshing and enjoyable driving experience.
Got Questions? Let Us Help!
Welcome to Madison Muffler & Auto Repair. Madison Muffler & Auto Repair has provided some of the best in full-service auto repair since 2006. Our experts are all ASE certified. We specialize in full-service auto repair. We also provide engine/ transmission repair and replacement, brake and oil changes, computer diagnostics, exhaust work, muffler replacement, and repair, plus much more. Our expertise is in exhaust services and catalytic converters. Madison Muffler & Auto Repair would love nothing more than to work with you to repair or upgrade your vehicle. Call us today to schedule an appointment.