Your Trusted Auto Shop in Madison, TN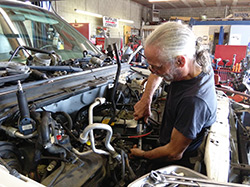 As your longstanding auto shop in Madison, TN, we take pride in the quality of our work and service. Madison Muffler & Auto Repair uses dependable parts, efficient techniques, in-depth diagnostics systems and decades of expertise to provide unparalleled service at unbeatable prices. We've remained one of the leading repair and muffler shops in Madison, Lakewood, Goodlettsville, Hendersonville, and Green Hill, TN, and the greater region by continuing to provide the following for our customers' lasting satisfaction:
Low prices: Our customers consistently rank us highly for providing quality parts and automotive services at genuinely affordable prices. While we make sure that every part and product we use is dependable and of good quality, we make it an equal priority to provide durable, premium options for every budget.
Committed service: Our trained technicians have been with Madison Muffler & Auto Repair for years and are dedicated to providing quality service to every customer through our company. We work as a team to ensure no part of your vehicle is overlooked and to fully address every potential problem.
Longstanding expertise: While Madison Muffler & Auto Repair was established just under 10 years ago, our team offers 50 years of combined experience to address all your auto needs, no matter how complicated or obscure.
Comprehensive service: We are proud to service and repair all makes and models of cars, trucks and SUVs, including tricky older or foreign models, and we are also happy to work on your large truck or RV.
Genuine customer service: Aside from our top-quality work, what keeps our loyal customers coming back is our genuine commitment to true customer service. Our staff and technicians treat everyone with a friendly attitude and we provide a clean and relaxing waiting room while your car is in the shop. You will also find that we never try to push any services on you that you don't need.
Long-term benefits: All of the modifications we offer for your vehicle are completely street legal and you'll find they pay for themselves very quickly with the savings on gas mileage you accumulate. To guarantee your satisfaction, we also offer two-year warranties on all of our repair services.
Contact us or come by our auto shop in Madison, TN, to see what quality auto repair at reasonable prices really looks like. We guarantee you won't be disappointed.