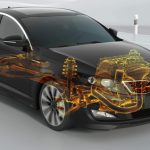 In today's world, where fuel prices are constantly rising, it is essential to maximize your car's gas mileage and improve fuel efficiency. Not only does this help you save money, but it also reduces your carbon footprint. In this blog post, we will explore some practical tips to help you achieve better fuel efficiency and get the most out of every gallon of gasoline.
1. Drive Smoothly and Avoid Rapid Acceleration:
One of the most effective ways to improve fuel efficiency is by driving smoothly and avoiding rapid acceleration. Sudden and aggressive acceleration consumes more fuel, especially if you often experience stop-and-go traffic. Instead, practice gradual acceleration and maintain a consistent speed to optimize your car's gas mileage.
2. Maintain a Steady Speed on Highways:
Another tip for maximizing fuel efficiency is to maintain a steady speed on highways. Constantly speeding up and slowing down can significantly reduce your car's gas mileage. When driving on highways, use cruise control to help maintain a constant speed and save fuel in the process.
3. Avoid Unnecessary Idling:
Idling your car consumes fuel without getting you anywhere. It is crucial to avoid unnecessary idling, especially during long periods of waiting or warming up your vehicle. Instead, turn off your engine if you anticipate being stationary for more than 30 seconds. Restarting your car uses less fuel than idling for extended periods.
4. Regularly Maintain and Service Your Vehicle:
Proper maintenance and servicing play a vital role in maximizing fuel efficiency. Be diligent about following your car's recommended maintenance schedule, including regular oil changes, air filter replacements, and tire rotations. A well-maintained car runs more efficiently, which translates to better gas mileage.
5. Check Tire Pressure:
Underinflated tires create unnecessary resistance, which leads to decreased fuel efficiency. Regularly check your tire pressure and inflate them to the recommended levels. Properly inflated tires not only improve your car's fuel efficiency but also increase safety and extend tire life.
6. Remove Excess Weight and Reduce Wind Resistance:
Extra weight in your car can have a negative impact on fuel efficiency. Remove any unnecessary items from your trunk and cabin to reduce weight. Additionally, reduce wind resistance by removing roof racks, bike racks, or any other external accessories when not in use. These measures help to improve aerodynamics and increase your car's gas mileage.
7. Use the Right Fuel and Engine Oil:
Using the right fuel and engine oil can make a difference in your car's fuel efficiency. Follow the manufacturer's recommendations for the appropriate octane rating of gasoline for your vehicle. Using higher-octane fuel when it is not required has no added benefits and could even decrease fuel efficiency. Similarly, using the recommended engine oil viscosity ensures that your engine runs smoothly and efficiently.
8. Combine and Plan Trips:
Combining multiple short trips into one and planning your route can help you save fuel. Cold starts consume more fuel, so combining trips reduces the number of times you have to start your car. Planning efficient routes also helps avoid traffic congestion and unnecessary detours, further improving fuel efficiency.
Conclusion:
Maximizing your car's gas mileage and improving fuel efficiency is a simple and effective way to save money and reduce your environmental impact. By following these tips, such as driving smoothly, maintaining your vehicle, and reducing unnecessary weight and wind resistance, you can make a significant difference in your car's fuel efficiency. Remember, small changes in your driving habits and car maintenance routine can result in substantial fuel savings over time.
Got Questions? Let Us Help!
Welcome to Madison Muffler & Auto Repair. Madison Muffler & Auto Repair has provided some of the best in full-service auto repair since 2006. Our experts are all ASE certified. We specialize in full-service auto repair. We also provide engine/ transmission repair and replacement, brake and oil changes, computer diagnostics, exhaust work, muffler replacement, and repair, plus much more. Our expertise is in exhaust services and catalytic converters. Madison Muffler & Auto Repair would love nothing more than to work with you to repair or upgrade your vehicle. Call us today to schedule an appointment.