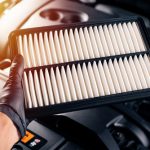 One of the essential maintenance tasks for your car is replacing the air filter regularly. A clean air filter improves engine performance, increases fuel efficiency, and protects your vehicle's internal components. While many people opt for professional services, replacing your car's air filter can be a simple and cost-effective do-it-yourself (DIY) project. In this blog post, we will guide you through the step-by-step process of replacing your car's air filter, helping you save money while ensuring the optimal functioning of your vehicle.
Understanding the Importance of the Air Filter
The air filter in your car prevents contaminants like dust, dirt, and debris from entering the engine. Over time, the filter becomes dirty and clogged, reducing airflow and compromising engine efficiency. By replacing the air filter regularly, you can ensure that your engine receives the clean air it needs to perform optimally.
Gather the Necessary Tools and Materials
Before starting the replacement process, gather the following tools and materials:
1. Replacement air filter: Purchase a new air filter that is compatible with your car's make and model. Consult your owner's manual or ask for assistance at an auto parts store if needed.
2. Screwdriver or socket wrench set: Depending on your car, you may need a screwdriver or socket wrench set to remove the air filter housing cover.
Locate the Air Filter Housing
1. Consult the owner's manual: Your car's owner's manual will provide you with the exact location of the air filter housing. It is typically found within the engine compartment.
2. Inspect the housing: Once you have located the housing, visually inspect it to understand how it is secured and how it opens. Some housings may have clamps, screws, or latches that need to be undone.
Remove and Replace the Old Air Filter
1. Open the air filter housing: Carefully remove any clamps, screws, or latches holding the housing cover in place. Set them aside in a safe spot.
2. Remove the old air filter: Take out the old air filter and inspect it for dirt and debris. If it appears dirty, it's time for a replacement.
3. Clean the housing: Before installing the new filter, use a cloth or brush to clean the inside of the housing, removing any loose debris or particles.
4. Install the new air filter: Position the new air filter into the housing, making sure it fits snugly. Ensure that the filter is correctly aligned with the airflow direction indicated on its frame.
Reassemble the Air Filter Housing
1. Place the housing cover back: Carefully attach the housing cover, ensuring it is secured tightly. Reattach any clamps, screws, or latches that were removed earlier.
2. Double-check the installation: Before closing the hood, reinspect the air filter housing to ensure everything is securely fastened. Ensure there are no loose screws or clamps that may cause damage or reduce the effectiveness of the air filter.
Regular Maintenance Schedule
Repeating this air filter replacement process is necessary as old filters become dirty and less effective over time. As a general rule of thumb, it is recommended to change the air filter every 12,000 to 15,000 miles or as advised by your car's manufacturer. By following a regular maintenance schedule, you can prolong the life of your engine and avoid costly repairs.
Conclusion
Replacing your car's air filter doesn't have to break the bank. By taking the DIY approach, you can save money while keeping your engine running smoothly and efficiently. Remember to consult your owner's manual, gather the necessary tools, and follow the step-by-step guide provided in this blog post. With a little time and effort, you can easily replace your car's air filter, ensuring optimal engine performance, improved fuel efficiency, and long-term savings.
Got Questions? Let Us Help!
Welcome to Madison Muffler & Auto Repair. Madison Muffler & Auto Repair has provided some of the best in full-service auto repair since 2006. Our experts are all ASE certified. We specialize in full-service auto repair. We also provide engine/ transmission repair and replacement, brake and oil changes, computer diagnostics, exhaust work, muffler replacement, and repair, plus much more. Our expertise is in exhaust services and catalytic converters. Madison Muffler & Auto Repair would love nothing more than to work with you to repair or upgrade your vehicle. Call us today to schedule an appointment.