How To Reduce Wear And Tear On Your Car
Whether you're driving a new luxury car or an old four-door that's been in the family for years, it's important to keep it in good condition. Keeping your vehicle in top shape will save you money on repairs and spare parts replacements, as well as prevent unexpected repair bills. Here are a few tips on how to minimize wear and tear on your car so you can enjoy your ride for longer.
1. Change The Oil
Changing the oil is one of the most important things you can do to reduce wear and tear on your car. It keeps your engine lubricated and prevents it from overheating, which reduces the risk of breakdowns. It also helps you get more miles to the gallon of gas you put in your tank. This is because the lubrication provided by fresh oil ensures that the parts of your engine create minimal friction, so they use less fuel.
2. Change The Filters
A dirty air filter can affect the fuel-air balance in your engine, which causes a variety of issues. These include engine flooding, poor acceleration, rough idle and a Service Engine Light that turns on. Changing your air filters is an easy, inexpensive maintenance task that will save you money and keep you and your vehicle healthy. Plus, it's good for the environment.
3. Rotate The Tires
Tire rotation is an important part of keeping your car in good condition. It helps to ensure even wear on the tires, which prolongs their lifespan and saves you money. Tires that don't have an even amount of tread can create a bumpier ride, which can affect your comfort and safety while driving. A tire rotation will help ensure that all four tires are evenly worn. This will result in a smoother ride, increased safety and improved fuel efficiency.
4. Change The Brake Pads
Brake pads are one of the most important parts in your vehicle and should be replaced at regular intervals. This will help reduce wear and tear on your car. How quickly your brake pads wear out will depend on how often you drive and how heavily you use them. Heavy braking at high speeds, or a lot of heavy weight in the vehicle all lead to faster brake pad wear.
5. Change The Brake Fluid
Brake fluid is an important part of your car's hydraulic system that helps slow down and stop your vehicle. It also lubricates the brake lines and calipers to prevent corrosion. It's easy to check your brake fluid level and condition. Just open the hood and locate the transparent reservoir.
6. Change The Battery
The battery is a vital part of your vehicle, and changing it every two years will help prevent any major issues with your car's electrical system. When you change your battery, be sure to consult your owner's manual to ensure that you do it correctly. This can help save you time and money in the long run!
7. Check The Tire Pressure
A vehicle's fuel economy, handling, and load capacity are all dependent on proper tire pressure. Under-inflated tires are more susceptible to a host of issues that could compromise these aspects, from a loss of steering control and braking response to hydroplaning and a blowout. Keeping your tires at the recommended air pressure is easy to do. Most vehicles have an information card or sticker inside their driver's door jamb that provides the target pressure for your tires, expressed in pounds per square inch (PSI).
8. Change The Brake Light
Your brake lights are a critical part of your vehicle, and they help other drivers know that you are slowing down or coming to a stop. If they aren't working properly, you could potentially cause a crash and end up with a ticket! When your brake light bulb burns out, it is important to change it quickly to reduce wear and tear on your car. It's a simple process that you can do at home without the need for a professional.
9. Change The Headlights
Headlights are an important part of your vehicle's safety, as they help you illuminate the road ahead during darkness and improve visibility in adverse weather conditions. If your lights are dim, fading or flickering, it's time for a replacement. This will ensure your visibility and reduce the likelihood of a crash or citation from local law enforcement.
10. Change The Wiper Blades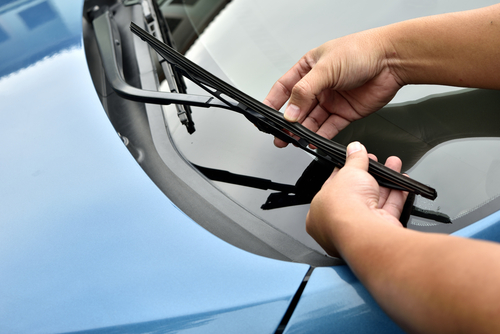 Wiper blades are one of the most important car parts you need to keep your vehicle running safely and efficiently. They help you clear the windshield of rain, sleet, snow and other inclement weather. They should be changed every six months or a year, depending on the amount of wear and tear they receive. Worn wiper blades can significantly impact visibility, causing reduced reaction time and increased risk of accidents while you're driving.